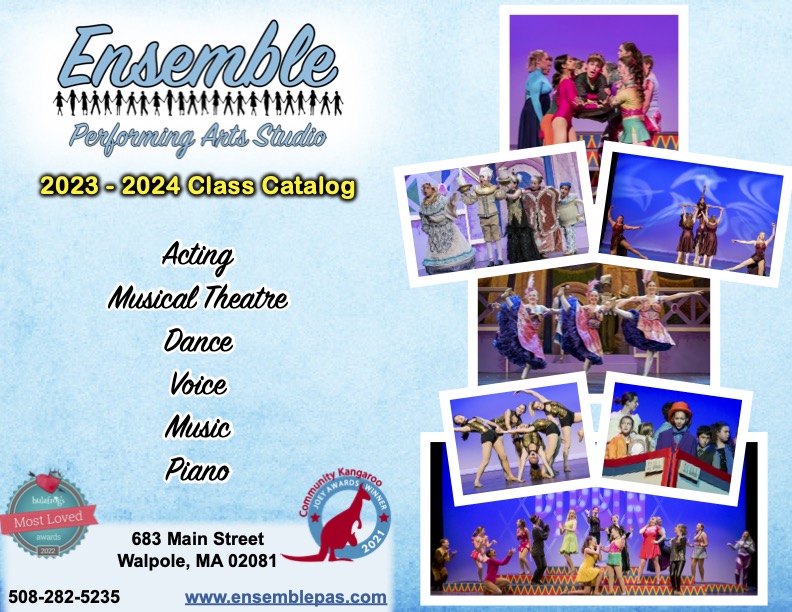 ---
"You are not alone in the world. You are part of an ensemble."
---






Why "Ensemble"?







en·​sem·​ble
noun: a group producing a single effect
adjective: emphasizing the roles of all performers as a whole rather than a star performance
I chose the name "Ensemble" because it refers to what I know to be the most important element of theatre – the people, and, in this case, the students. The word "ensemble" refers to all of the performers as a single unit – which is exactly what they are. No one person is more or less important than another, and one cannot succeed while another fails. We rise as one or fall as one. Becoming a part of Ensemble means exactly that – becoming a part of the ensemble. Supporting each other, working together, and learning together.
– Cailin Dyke Kelly
Owner, Executive & Artistic Director
---
"Progress, Not Perfection"
The desire for greatness and success can often be stressful for students. They want to hit the note the first time, master the choreography the first class, and perform the scene perfectly after only one run. The reality, however, is that nothing great has ever been achieved over night. Developing your skills as an artist takes an abundance of hard work, passion, and time. At, Ensemble, we believe in incremental growth and encourage students to work hard to achieve their goals both inside and outside of class time.
Technique, Technique, Technique
Technique doesn't simply allow you to perform your art well, it allows you to perform your art in a way that is healthy for both your voice and your body. Proper technique ensures that students are performing safely and expertly so that students can perform for years to come at whatever level they choose!
Fun & Focused
Ensemble's instructors are here to help your child become the artist and the performer that they dream of being. Some days, this will mean holding their hand (whether literally or metaphorically), other days it will mean providing a challenge. Some days, it may even mean giving them a bit of a push. Our teachers pride themselves on their expert ability to create a classroom environment that strikes the perfect balance between fun and focused. Your child will leave every class smiling, sweating, and excited to come back for the next one!













Why Ensemble?